The world as we know it today is filled with all kinds of naughty free porn clips and kinky images that you can easily find on the Internet, but do you know where it all started? Well, some say that it all began with a magazine called 'Playboy' that was founded by Hugh Hefner, and as sad as it is for all pornograph-enthusiasts to hear this, he died on September 27, 2017.
However, the life of Hugh Hefner is the one that everyone desired, as he was the king of 'Playboy', and we can easily state that he lived a full and fun life, leaving us the biggest gift that anyone could have ever asked for; a huge number of incredible 'Playboy' magazines that feature the hottest women in the world. Hugh Hefner has also built hotel resorts, operated a number of media endeavors and he even started a couple of modeling agencies.
Hugh Hefner and his early life
Born on April 9, 1926, in Chicago, Illinois, the 'icon', 'legend' or as some people like to call him the 'sexual liberator', Hugh Hefner was able to transform the adult industry into what it is today. Some of you might still remember the first issue of Playboy in December 1953 that featured Marilyn Monroe posing as the first Playboy girl!
He was born during the Prohibition era. Hugh Hefner was also the first, out of two sons, of Glenn Lucius Hefner and Grace Caroline. Both of his parents worked as teachers and they were born in Nebraska. His parents were strict Methodists, and they sent Hugh Hefner to Sayre Elementary School, after which he attended the Steinmetz High School, where it was reported that his IQ test came back with over 152 points, even though his everyday academic performance was modest.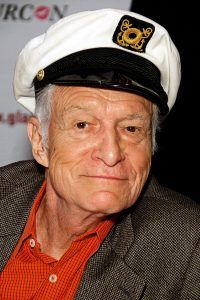 A talented journalist
You could say that being a journalist was always his dream. Even in high school, Hugh Hefner became the president of the student council and he managed to found his school's newspapers. However, did you know that Hugh Hefner also created a comic book that was called School Daze? He used this opportunity to create a story where he could build his own universe and be in the center of attention.
After serving the US Army for two years as a noncombatant, he was discharged and then he went to study at the Art Institute of Chicago, before enrolling at the Urbana-Champaign (University of Illinois) where he got a degree in psychology.
By the early 50s, he managed to get a copy-writing job at the Chicago office of Esquire magazine, which was then a famous magazine as it featured works from writers such as F. Scott Fitzgerald and Ernest Hemingway. However, after Hugh Hefner was denied of a $5 raise, he decided to quit his job and move to New York, which is where it all started!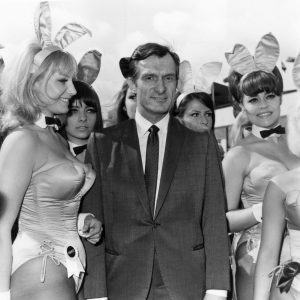 The beginning of Playboy
Due to the love, he shared for journalism; Hugh Hefner was dead set on starting his own publication, which we all know ended up pretty big, eventually. In 1953, after taking out a mortgage, which was a bank loan of $600, he was able to raise that money up to $8.000 from about 45 investors, which also included a $1.000 from his mother, who might not have believed in the venture, but she did believe in her son. This money was used to launch Playboy, the magazine we all know and love today (Hugh Hefner initially wanted to call Stag Party).
As it was mentioned, the first issue was published in 1953, and it featured a nude calendar shoot of Marilyn Monroe which sold over 50.000 copies! However, a fun fact: Hugh Hefner has never really met Monroe; he bought her copies in 1992 for $75.000 at the Westwood Village Memorial Park Cemetery.
'The Crooked Man'
What many do not know is that after the story of 'The Crooked Man' written by Charles Beaumont, got rejected by Esquire magazine in 1955, Hugh Hefner decided to publish the story in Playboy. This was a science fiction story which showed the world where straight men were being persecuted in a world where being homosexual is the norm.
This story caused many people to write angry letters to Playboy, which is when Hugh Hefner decided to share his opinion which stated: "If you think that persecuting heterosexuals in a homosexual society is wrong, then the reverse is wrong as well".
Other works and scandals
On June 4, 1963, Hugh Hefner was arrested because of the promotion of obscene literature at the time, where he published an issue of Playboy that showed nude photos of Jayne Mansfield. This case was taken to trial and it resulted in the hung jury. Hugh Hefner stated that militant or aggressive feminists are strongly against the romantic boy-girl relationship that Playboy is promoting, which is why he ordered a hit piece in his magazine that went against them in 1970.
Did you know that there is even an episode of The Simpsons, 1993, called "Krusty Gets Kancelled", where Hugh Hefner guest-voiced himself? There were a couple of other works he did after that, and because of these roles, in 2009; Hugh Hefner received an award for the "worst supporting actor" for his performance as himself in Miss March.  You can easily learn a lot about his life on many top porn sites, as his death has surely affected us all.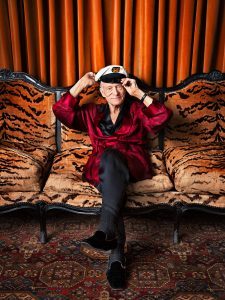 Personal life
As we all know Hugh Hefner was married three times, and one of his wives was actually 36 years younger than him. He was also known for his Playboy Mansion, which was his house and it was said to be filled with beautiful Playboy girls. Hugh Hefner was known to have dated up to seven women at the same time, and he also dated Tina Marie Jordan, Holly Madison, Brande Roderick, Izabella St. James, Kendra Wilkinson and Bridget Marquardt.
Hugh Hefner's Playboy Mansion was put on the market in January 2016, for $200 million, with the condition that he would still live and continue his work in the mansion. Not long after, it was sold to a principal at private equity firm, Daren Metropoulos, for $100 million.
The death of Hugh Hefner was surely a surprise to everyone who truly enjoys pornography. There were many best porn sites that wrote about his personal life, his career and the beginning of Playboy in general. But you should all know that Hugh Hefner was found dead in his home, Holmby Hills in LA, California, at the age of 91, which just means that he lived his life to the fullest and he lived the life that everyone can be jealous of.